Tensile Testing Machine
Polyplast Equipment & Accessories has recently launched Tensile Testing Machine that have been developed with the most advanced technologies of our times. Alongside simple usage, we have even ensured the safety of our customers. Compared to other machines, our Tensile Testing Machine techniques are efficient in managing work-hour capacity and enhancing productivity. Alongside high production value, our machine go low on maintenance.

We use the Tensile Testing Machine , a unique unit that's either oriented vertically or horizontally. Such orientation is pointed in the direction in which the machine test moves. The Testers matching to different Test standards and the test speed of Tester is available on different option depends on range from PMDC, VFD and SERVO and Constand speed induction motors .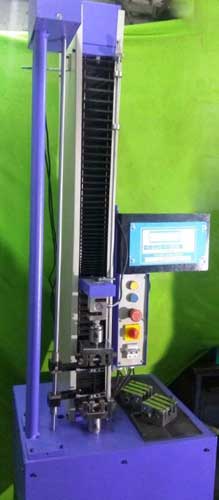 Model PTE - 02/03/05
This Model Testing Speed - 0.1- 500mm/mnt ( optional).
Max.distance between grips - 900mm std.
Our best Displacement resolution - 0.1mm ( by Digital ).
We are provide Ball screw - 1 /2 No (Imp. Ball screws), Testers Capacity of load cell - 0.5kg to 10,00Kgs. L.Count-0.1Kg and Max. Load Capacity - 0-10000 Kgs. speed by selection.
Take a Grips for Sample - 1 Set of Wedge Grip.and a range of accessories available as option,
Our products Electric Supply - Single Phase 220 V Ac with 50 Hz. For normal model/

Polyplast Equipment & Accessories boasts of one of the best qualities in the market of tensile testing machine. It not just manufactures, but also exports these tensile testing from its Mumbai factory. The company also offers engineering assistance to design testing products to different companies so that they can optimize the unique properties of different Tensile Testing Machine required for their jobs.

The company has an unwavering stand about Quality Management System. The quality aspect of Tensile Testing Machine manufactured by Polyplast Equipment starting from input of Product is ISO 9001-2015 compliant. The company also undertakes responsibility for continuous development in product & services through innovative and latest technological achievements. This is what has enabled it to achieve customers satisfaction.


We are Maintaining the quality principles of our items and further developing their quality is basic for our association. The items produced are as per the ASTM/IS particulars. Our designing staff endeavor hard to meet each necessity of our clients at the site and guarantee that the reach we produce is according to their particular prerequisites. The quality specialists intently screen the assembling of the gear and their conveyance interaction. It is because of the endeavors of our specialists that quality has turned into a sign of the association.

Our range includes a wide variety of Tensile Testing Machine that is widely used to indicate the level of current load, peak load, and peak elongation. These automatic machines include a ball screw, geared motor, micro-processor based controller, load cell, and encoder. In addition to this, we also provide a similar application for testing peel strength of the specimen. Precision-engineered, these machines are at par with the ASTM D 638, ASTM D 412 & ASTM D 882, and ASTM D 903 ,IS 3400 ..standards.

We are one of the best tensile testing machine manufacturer , tensile testing machine exporter, tensile testing machine supplier in Mumbai, India and All Over Countries. For more information you can contact our experts through our mobile number to assist in giving you more detailed information to meet your requirements. We Polyplast Equipment & Accessories are acclaimed to be the best in the field and give our competitors a tough fight with regards to our quality and rates! Time and again we have proved that we are better than the best!
Contact Us