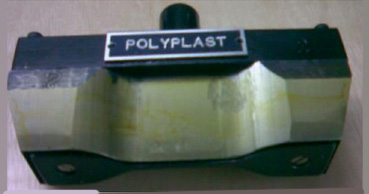 Polyplast Equipment and Accessories began its Operations in 1992 with one little unit in modern region, Mumbai. We are give an extremely Dedicated Team of Engineers and Professional Executives for Dumbbell Cutter. We are resolved to convey Quality of Dumbbell Cutter to Our Customers. Our organization has exceptional current assembling plants, and Strong Design groups with redesigned plan offices Within a brief period.

We are a noticeable maker and provider of a wide scope of superior grade of Dumbbell Cutter We utilized in different homegrown just as modern purposes. Additionally, these Dumbbell Cutter can likewise be redone according to the your necessities.

Polyplast Equipment and Accessories have accomplished our objective market in Mumbai, just as begun providing merchandise to all over India and All nations. We as of late entered in the Export Market. We are as of now fostering our own Designed Products to supply to our regarded clients in India and regulate market.
Polyplast Equipment and Accessories gives this Dumbbell Cutter machine in basically used to get ready examples by punching the bite the dust impeccably with a uniform power of controlled Dumbbell Cutter.

Our range of Dumbbell Cutters is manufactured using high grade material and strict selection of material on right composition contains carbon, Nickel, chromium are cross checked too. We make sure on each process is done as planed including heat ,chemical, sub-sero treatment . The computer aided Numerically controled machines are used for different operation results in dimensional accuracy. The grinding is precisely done by our experience craftsman to make sure long lasting sharpness. The cutters are available in different sizes and varieties like tear cutters and straight cutters and mostly with ejector as standard feature. Dumbbell Cutters are known for their excellent performance and long serviceability. We also offer heavy version cutters that are widely used for hard plastic applications. Further, we ensure that the entire range is in compliance with ASTM, DIN, and IS standards.

Polyplast Equipment and Accessories ventures have been producer, provider, exporter countless Dumbbell Cutter for machine businesses.

The extraordinary precised ejector permits the administrator to work just in monitored (wellbeing) position and auto ejection guarantee security of administrator on or after cutting operation.

With regards to utilization of Dumbbell Cutter, you can utilize electrical items. Other than being sturdy and solid, the lighter load of the item for extraordinarily notice. Therefore you really want a Dumbbell Cutter.

Polyplast Equipment and Accessories provides, you deal in raw materials or processed plastics, not testing them can increase rejections and waste, and result in loss of valuable production time. Besides financial losses, it could also mean loss of face with your clients. Polyplast offers you a wide range of affordable property testing equipment and one among this is uncompromising quality of dumbbell cutter . Our dumbbell Cutter equipment will not only improve product quality, but also help you achieve the ISI mark and ISO- 9000 certification . We also custom make testing equipment to meet your specific requirements. And re engineer our equipment to meet your changing needs.

We are one of the best Dumbbell Cutters manufacturer,Dumbbell Cutters exporter, Dumbbell Cutters supplier, Dumbbell Cutters best service provider in Mumbai, India and all over countries.
Contact Us