Established in the year 1992, we, "Polyplast Equipment & Accesories", are a prominent manufacturer and supplier of a wide range of high quality Measuring & Testing Equipment, Cutter Equipment, Humidity Chamber, Salty Spray Chamber, and Oven & Muffle Furnace. Our skilled technicians strive hard to develop new and innovative range with the help of advanced technology and tools. To satisfy the varying demands and preferences of our clients, these products ensure long serviceability and excellent performance.
Polyplast Equipment & Accessories, a ISO 9001: 2015 certified manufacturer is in to quality testing equipment for more than 25 years and located in Mumbai. Our clients include Reliance Industries Ltd, Mobile Exxon,ITW, MRF, IOC, Supreme, NeelKamal, Varroce Engineering, Essel Propack etc. Our main product range are includes 3 segments.
1. Polymer Testing :  This Segment caters mainly to raw material & products of Polymers. Mainly Testers are, Melt Flow index Tester ( MFI ) Environmental Stress crack Resistance Tester ( ESCR), Izod Impact Tester, HDT VST ( Heat Deflection & Vicat Softening). Hardness Tester, Tensile ,Compression, Flexural Testing ( by U TM/TTM ) and sample preparation machine like Pneumatic auto cutting  Press and Dumbbell cutter make sure uniform& continues pressure cutting with state  of  art sharpness to get précised specimen as per Standard to test.
2.Rubber Testing:  As name suggest for Rubber and elastomer industry mainlproducts are Tensile Testing Machine / UTM( for Tensile/Compression Testing), Compression Set , Abrasion Tester, Ross Flex Tester,  Hardness Tester, Specific Gravity Testers, Ovens & Muffle Furnaces. Pneumatic auto cutting Press and precisely sharpened Dumbbell cutter to make sure uniform& continues pressure cutting for précised specimen and similar Moulds also. Sub zero degree chambers, Salt spray Testers
3.Transport Worthiness Testers & SPM :  This segment includes Drop Tester, Vibration Tester and Compression Testers, Drop Tester, Vacuum oven/leak detecting Tester, Dart Impact Tester, Co-efficient of Friction Tester. Colour comparator, stacking Tester, Ball drop, inclined impact etc. Besides this we do make custom build equipment two roll Rotator mixer for labs, Tunnel Furnace, heavy Industrial ovens, Impact hammering tester etc.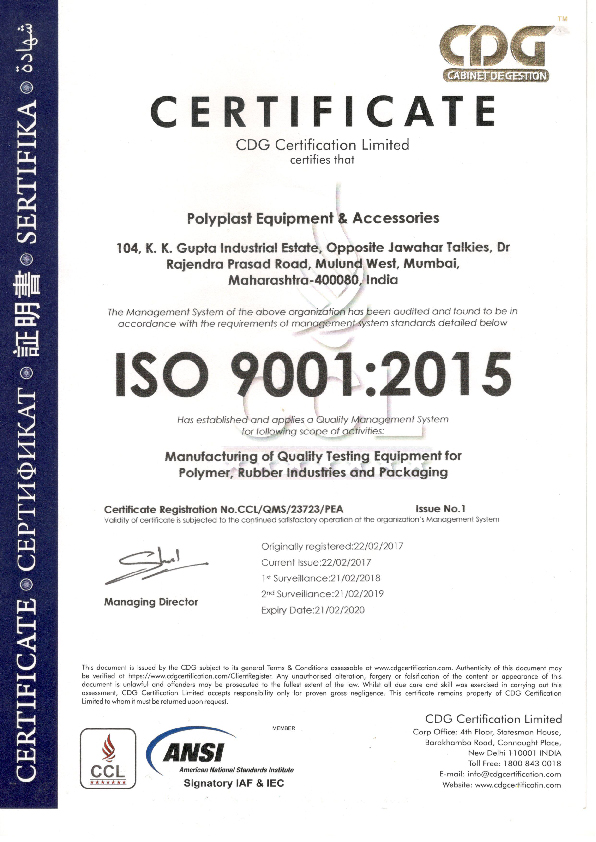 "Test Your Products, Before Its Too Late"
Whether you deal in raw materials or processed plastics, not testing them can increase rejections and waste, and result in loss of valuable production time. Besides financial losses, it could also mean loss of face with your clients. Polyplast offers you a wide range of affordable property testing equipment of uncompromising quality. Our equipment will not only improve product quality, but also help you achieve the ISI mark and ISO- 9000 certification. We also custom make testing equipment to meet your specific requirements. And re engineer our equipment to meet your changing needs.
Product Portfolio
We are counted among the leading names in manufacturing and supplying a wide range of laboratory equipment that are categorized into Oven & Muffle Furnace, Humidity Chamber, Salty Spray Chamber, Measuring & Testing Equipment, and Cutter Equipment. Manufactured using high grade raw material, these lab-testing equipment are at par with ASTM D and IS standards. Available in diverse specifications, these products are designed keeping in mind the specific requirements of our clients.
Application Areas
Our laboratory equipment are manufactured as per the industry standards and hence, are widely preferred by clients across the globe. The entire range of our laboratory equipment find application in following ares:
S no.
Type of Industry
Testing Equipment
1
General Plastics
Izod / Charpy Impact Tester, Inclined Impact Tester, Drop Testers
2
Petrochemical
MFI, ESCRA, Muffle Furnace, Temperature Bath, Ovens, HDT / VST.
Test Apparatus & Tensile / Universal Testing M/c, Specimen.
Cutting Press & Specimen Cutters etc.
3

Rubber Products

Tensile/Universal Testing M/c., Abrasion Tester, Rose flex Tester, Hardness Tester, Resilience Tester, Ovens, Dumbbell & other cutters, Specimen moulds etc.

4
Chemical &
Pharmaceutical
Rotary Vacuum Evaporator, Thin Film Evaporator, Incubators, Viscosity Baths, Ovens, Density Apparatus, Dehumidifier, Centrifuges, Autoclaves, etc
5
Packaging
Tensile / Universal Testing Machine, Dart Impact Tester, Vibration Tester, Co- efficient of friction Tester, Burst Strength Tester etc.
Our Team
An organization cannot achieve success without the support of a dedicated and hard working team of professionals. Hence, we have hired a team of qualified and experienced personnel, which knows that satisfaction of the customers can be achieved only if well developed and quality products are produced. Our organization does not compromise on investing money in technologies and tools, that is needed by the personnel to produce superior quality equipment. The qualified workforce working with us includes:


Engineers
Technicians
Quality controllers
R&D experts
Skilled laborers
Quality Assurance
Maintaining the quality standards of our products and further improving their quality is indispensable for our organization. The products manufactured are according to the ASTM/IS specifications. Our engineering personnel strive hard to meet every requirement of our customers at the site and ensure that the range we manufacture is as per their specific requirements. The quality experts closely monitor the manufacturing of the equipment and their delivery process. It is due to the efforts of our experts that quality has become a hallmark of the organization.
Our Infrastructure
We are backed by robust infrastructure set up that enables us to meet our clients' expectations and demands within the stipulated period of time. It is segregated into various units for the smooth and systematic operational process. Our manufacturing unit is equipped with sophisticated machines and latest facilities to provide standardized range of Measuring & Testing Equipment, Humidity Chamber, Salty Spray Chamber, Oven & Muffle Furnace, and Cutter Equipment. On the other hand, we possess a team of experts that make the utmost use of available facilities and offer products in compliance with the industrial standard.
Warehousing And Packaging
Our organization is supported by a spacious warehouse that helps in accommodating our surplus products. It is segregated into different unites for the systematic arrangements of the bulk of products for extended period of time. Our warehouse is highly automated and well connected to roads, stations and ports. Further, we also have a packaging unit for the secure packing of range to avoid any damage while transition. It helps us in delivering defect free products to the clients within a fixed time frame.
Clientele
We are a client centric organization and hence, ensure that our laboratory equipment are in compliance with international standards. The quality centric and customer friendly approaches have enabled us to meet the growing demands of our global clients. Our clients are based across the domestic markets as well as across the North America. The high quality products we manufacture have enabled us to meet the demands of following clients:
ACME Containers Kenya
Amrita Institute for Engineering
ATV Projects Ltd., BPL Refrigeration
Blow Plast, Bombay Dyeing
Bright Automotive
Caprihans
Cosmo Plast Sharjah
Crescent Engineering College
Essel Packaging
Exxon Chemical India
Finolex Cables
Godrej GE
Herdellia Unimers
Hindustan Ciba Geigy
IOC
IPCL
IIT Khargpur
Johnson & Johnson
Mahindra & Mahindra
NOCIL
Nilkamal Plastics
Oswal Petrochemicals Polyene General Industries Ltd.
Prince Multiplast
Reliance Industries
REPL
SCJ Polyethene
Supreme Industries
Vam Organic Chemicals
Whirlpool India Ltd.
Raffia Factory- Riyadh
Relaince Ltd
Mobile Exxon
ITW
MRF
IOC
Supreme
Neelkamal
Varroce Enginering
ATV Projects India ltd
ACME Containers Ltd Kenya
Arham Plastcs Ltd
BPL refrigeration Ltd
Blow Plast
Bombey Dyeing
Caprihans
Cosmo Films
Cresent Enginnering College
Essel Packing Ltd
Iplast Dubai,Egypt
Petco Gulf
BARC
Atul Ltd
Nandan Petro Chem
CIPET
Aditya Brila
Pidlite
Bajaj
Herdilia Universal
NOCIL
Oswal Petrochemicals Polyene General Industries Ltd
PEZ India Ltd
Regional Testing Centre
Shree Bhaghubhai Mafatlal
Vam Organics Chemicals Ltd
Whirlpool India